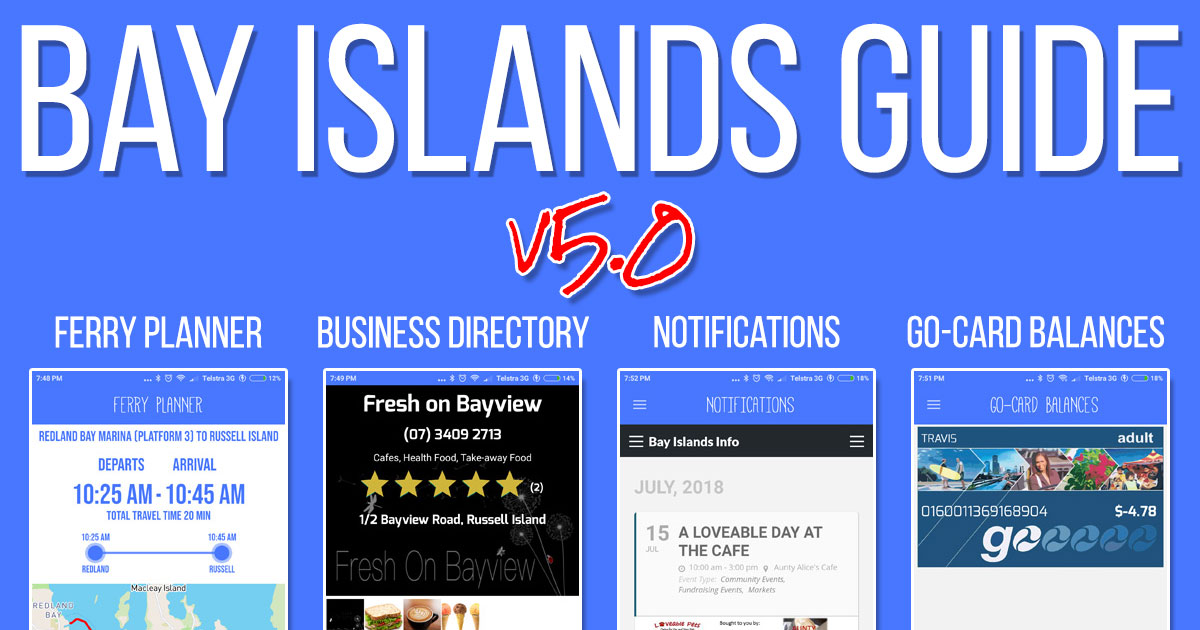 Here at Bay Islands Info, we pay attention to what our Bay Islands Guide users say. We've been reading your app reviews and comments, and have implemented a few new features we think you're going to love. As well as reading your app reviews and comments, we've taken notice of what islanders ask for most frequently on Facebook.
New features for the 'Ferry Planner':
Completely redesigned, easier to read 'ferry results' screen – now with a route map!
You can now see what time you will arrive at each stop – great if you're meeting someone on another island on the way to the mainland.
A 'previous ferry' option is now available – a much requested feature.
The ability to call a taxi – if your destination island has a taxi service, we've made it simple to call them to make a booking.
Real-time ferry data – Still in BETA, but will soon be able to show you the ferry you are planning to catch is running on time or not.
New features for the 'Business Directory':
Completely redesigned, easier to use 'business details' screen – packed with new features!
Quick access to call a business, or share the business information with others
Business reviews – Had a good or bad experience with a local business? Leave a review and let others know!
Detailed map showing the location of a local business, and how to get there – No more asking for directions.
Updated features:
Updates to the notification system – You're in control. Not interested in a certain type of notification? Turn off that category and never get them again!
Location reminders are now more accurate, and easier to share with friends and family – Never lose your car in a carpark again.
Help centre – Want to know more about BIG? Check out the 'Help Centre' section of the app.
Grab a copy:
Go on, it's free. Yes, 100% free. No ads. Get it on Google Play Store.
Screenshots:
How you can help:
Bay Islands Guide app development takes a lot of time and effort. As most of you are aware, the app is developed on the Southern Moreton Bay Islands by a single individual. BIG used to be a paid app, but we decided to make it FREE, so that more users could enjoy using its features to make their island life easier.
However, considerable time and effort is put into each version of Bay Islands Guide, as well as the ongoing server costs associated with running the service. If you wish to help cover some of the server or development costs, please donate using PayPal using the following button.

iPhone users, we haven't forgotten about you.. but since we never imagined BIG to become as popular as it has, and due to changes in Apple policy, we decided to do a complete 'ground up' rewrite of the iPhone version of Bay Islands Guide. We are working on it, and making good progress. We want things to be perfect when we release it. Please, be patient. Just a little longer. We promise it will be worth it.